Chia Puddings are so good for the body, deceptively filling and also refreshing!
My clients and business partners always enjoy coming over to sample my home made Chia Puddings and guess which essential oil I have used.
Hot Tip: Try finding small little jars for your chia puddings that will allow you to make in bulk and leave in the refrigerator for breakfast, snacks and dessert.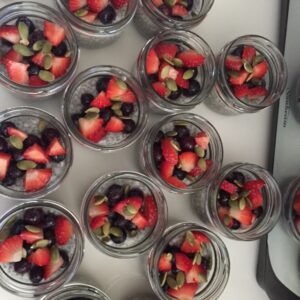 Ingredients 
200 almond or coconut milk
100g  strawberries
40g agave or honey
2 drops lime essential oil
60g chia seeds
Method
Place strawberries and milk in the blender, blend for one minute then add the rest of the ingredients and blend on low speed for 5 minutes
Pour into serving  bowls and let it set in the fridge for 30 minutes before serving
Serve with fresh strawberries, walnuts and coconut flakes