Something delicious and something healthy to bring some excitement into your morning.
This recipe will feed 3 people although there are only  2 of us now since our kids got married and moved out.
However, being Greek we always cook extra just in case we have visiters. We always like to feed our visitors . We can never eat in front of anyone without offering them what we are eating. I hope you get to try this recipe, your stomach will love you for  it . If you make your own coconut milk it taste even better.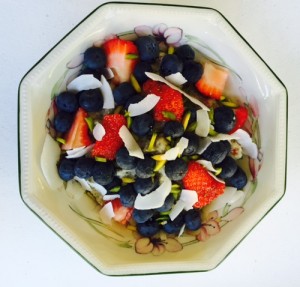 Ingredients 
2 cups coconut milk
1 cup coconut water
1 cup amaranth flakes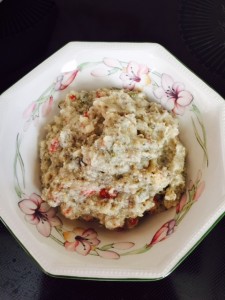 3 spoons goji berries
3 spoons pepita seeds
1 spoon pistachio nuts
Fresh strawberries and blueberries
Coconut Chips
Method
Simply mix the coconut milk, coconut water and amaranth flakes all together in a bowl!
Sprinkle slithered pistachio nuts, goji berries, peptic seeds, pistachio nuts and coconut chips
Add fresh strawberries and blueberries
Find a great chair, relax and eat